Getting ready to leave for our cruise! The buses were not airconditioned, but it wasn't bad once we got moving. Our bus driver, Mikey, knew how much I love Mimosas and brought a chilled bottle of Champagne. We shared it on our bus, so it was a fun trip to Tampa!
I didn't spend a lot of time in the casino, but I had a limit to lose and gambled until I reached my limit. I probably should have stopped a few times when I was ahead, but I was having too much fun. Fr. Aiden won $500 on one of the machines (probably lost it later), and Cathy, the parish manager, won $125 on a slot machine just after I got up from it to go to another machine. Oh well, it was still fun. The only negative was that smoking is allowed in the casino.
The menu selections were very good. Of course there was always someplace open for eating, but I did prefer the dining rooms. It was nice to be served and not to have to stand in line. I didn't have a bad meal in the dining room. The fish was excellent (Tilapia), the beef selections were excellent, the lobster tail was done very well, the escargot was super, the derserts were also very good. The only negative I can think of was that two of the derserts were misnamed. The one they referred to as Baked Alaska was really just ice cream with a little cake and some whipped cream, and the Cherries Jubilee was just vanilla ice cream with a cherry sauce... no liquor and not flamed. They were good but the names had our expectations too high for what we were served.
Speaking of serving... the waiters were wonderful... regardless of whether or not it was their job, they were excellent and a lot of fun. The stewards were good as well, and always left us towel animals after making up our cabin. If you have been on a cruise you have probably seen this before. Below are some pictures of my cabin mate and some of the animals as well as some pictures taken at dinners.
My cabin mate, Lori with one of the animals.
Having fun at dinner. The waiters were singing and dancing for us.
Our youth minister being his natural self.
Two of the teachers from our school,
Fr. Sean Hanafin from Ireland,
and Cathy our parish manager
Our waiters singing to Fr. Aiden about his retirement.
Fr. Aiden wishing the rectory cook well.
One of our families at dinner.
Fr. Aiden with one of our cruisers, Ginny.
Fr. Sean and Fr. Aiden in the internet cafe.
This is
not
an inexpensive activity!
Cathy and Lori at High Tea.
A first-timer at High Tea.
More High Tea photos
The piano player at high tea was wonderful!
Cozumel's water is beautiful, and there is a fabulous reef there.
Our ship docked in Cozumel
Tim and Castro. Tim was the one who showed me how to bargain for purchases. No comments about his outfit, please. He doesn't own white socks and wanted to look like he was from Cuba! ;o)

Tim's wife Jean posing outside of a notorious bar in Cozumel. We didn't go in to imbibe, but I did buy T-shirts for my kids! It was way too hot and humid (even for this Floridian) to be drinking at that time of day... but the bar was packed!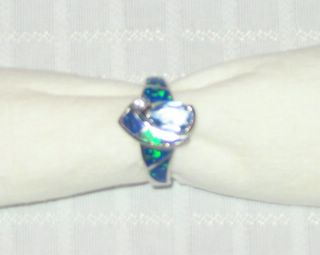 This ring was my best bargain purchase in Cozumel. It is hard to get a good picture of it, but it is opal, and tourmaline. I love it!

Going back to the ship in Cozumel...
Inspiration on the left and Imagination on the right.
I miss my cruise buddies!