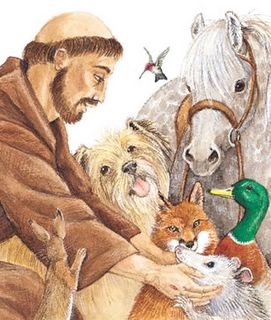 Today was the day designated by the Roman Catholic Church as the feast of St. Francis of Assissi, the patron saint of animals and a man noted for his humility and compassion to the poor. It was also the day that people bring their pets to the church for a blessing by one of the priests. It is a fun time. It would have been a fun time for me as well had I been able to gather the two cats in time to make the blessing. Maybe next year.
OOOO... smell that fresh breeze! Wonderful!

As I arrived at work today... a bit after the blessing of the animals... I couldn't get over how hot it still has been. Usually by the time St. Francis and the blessing of the animals is celebrated, we have had a little touch of cooler weather... not cold but not 95 degrees either. After I got a bit of work done in my office, I went over to the hall and joined in on the monthly pot luck and gathering called
Faith Alive.
Tonight we had Italian food and a teaching Mass. I really enjoyed it. However, as I was leaving the hall tonight I noticed a distinct cool breeze that definitely hints of fall. Fall... as much as we get it in Florida!
This was the highlight of my day! A wonderful gathering followed by the scent of season change. I wanted to run home and open all the windows and turn off the air conditioning! I didn't though, because I knew it would get hot again tomorrow. But something happens to me when I feel that first fall breeze. Something that tends to make most people think I am nuts... which is why I don't usually say much about it! What happens is that I get a dreamy smile on my face because I am beginning to think about my plans for Christmas!
The Christmas
season
is my favorite time of year. I love Christmas music. I love Christmas decorations. I love having the family together. I love the Advent preparations and Advent wreaths. I love the anticipation of this special celebration. I love the candles along our street as we return from Mass on Christmas Eve. I love Christmas trees. I love Christmas traditions. I love planning special surprises and gifts. I love Christmas cookies. I love the wonderful time with family that week after Christmas day. I love seeing the church all decorated and the Christmas Creche in the sanctuary. I even love cooking Christmas food even though it can be a lot of work. I think that the reason I love all of these things is because I get most of my shopping done early...
way
before the stores get crazy. By the time everyone else is getting started, I am relaxing and enjoying strolling through the malls just picking up a few remaining things. I have several birthdays to shop for during this time as well.
This first sign off is also the time that I start my scheming. It is never fun just to give gifts in pretty packages. There must be a few gag gifts included and maybe a trail of clues for someone to follow for a special gift. Even though the "kids" are all grown, we still have stockings. I grew up with that tradition and still do it for Himself, my mother, my kids and any siblings of Himself that happen to be there. Basically, anyone who spends the night Christmas Eve and wakes up with us in the morning gets a stocking.
Stocking gifts are a bit different. For instance, when my sister and I were growing up and got to be teenagers, my father got tired of missing his tools. So that Christmas we each got our own screw drivers in our stockings. I usually include the obligatory hair brush or toothbrush, fancy underwear for the girls, funny boxers for the boys, funky pens or pencils, and any other goofy things I can find. Now that the kids are older, I have started putting gift cards in their stockings as well. My mother also puts things in the stockings and the kids sometimes do now as well. It also makes it easier on some of the relatives that don't give big gifts to everyone... they just put a little something in the stockings. If you are creative, stockings are a lot of fun. I often pick up stocking stuffers throughout the year when I see something that is stocking worthy.
Beginning with the first Sunday of Advent, I will be pulling things out of drawers and closets. I will begin decorating and usually try to have the Christmas tree up by the end of the first week of December. Most of my shopping will be done before Thanksgiving. I will spend December enjoying everything... except for the couple of days of mad cleaning that I usually have to do. My list will start tomorrow. The fall breeze says it is time to begin. It is time for Mrs. Christmas to get it in gear. So, although
you
may think me nuts,
it works for me!
I smile
a lot
in December!