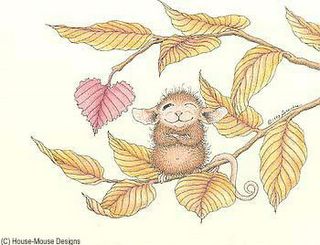 The outside temperature has cooled down a few degrees around here the last couple of days. It is a welcome relief, for sure! It is still hot but not 93 degrees. It is also cooling off in the evening so that being outside is very pleasant. So, in spite of the fact that we are watching another storm develop in the tropics, it is feeling more and more like fall... at least as much as we get fall in Florida. ;o)

I am still doing a little bit of Christmas shopping, but I really need to get some casual browsing time in the mall. Maybe by next weekend I will have the time. Last year the "kids" really liked getting the gift cards that I included in their stockings. I may have to repeat that this year, but maybe use some different stores. Gotta keep the surprise factor in place at least a little!

So, does anyone out there have any gift suggestions for brainy 24 to 30 year olds? The girls I can handle. It's "JPR" and Matt that I am still trying to finalize. Maybe now JPR will not be moving around quite as much and I can get him something for that apartment he hasn't had in quite a while. Matt is finishing up his Master degree in Computer Engineering... should be done sometime in December. He also is an outdoor nut... loves to hike etc. I think I should request a wish list from each of them, but they usually don't cooperate in time! Men!

While doing some Christmas shopping, I was introduced to a new store that I had never been in before... Burlington Coat Factory. There was a lot of junk in there and lots of boxes around since they were stocking up for the holidays. In spite of the crowded condition, I did get a few bargains. I found a cute dress with jacket for only $14.98. That is very hard to beat although I know that "L" manages to do that sort of thing frequently! I'll have to check back there once the stocking is better under control.

Today I caught up a bit on the laundry... not a major chore at this point. I guess I am putting off some bigger chores that I have been trying to avoid, but I will get to them all over the next couple of weeks... I just have to get myself in the correct frame of mind. The list includes the linen closet, my bedroom closet (yes, again), and the kitchen and bathroom floors. It is also time to get the carpets cleaned, but I may put them off a bit and do them when Himself is out of town.

This week should be quieter that last week... no meetings to attend!!! So I hope that I will have a bit more time to do some posting for this blog. It gets frustrating when I don't get to post anything new... then I don't get as many fun comments... and I really love reading them! I also should have more time to read my favorite blogs and leave comments... something else I love doing.

I am looking forward to tomorrow and some more nice weather. Maybe I will get some reading done outside... it seemss like an enjoyable thing to do. Have a great Sunday!