Let's hope this year is not quite so entertaining! I was entertained enough last summer to last me for a
very long time
! But it does seem that the tropics are already becoming active.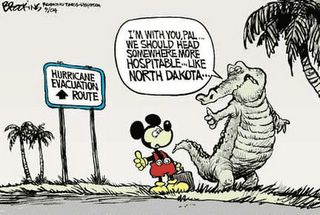 Being without electricity for a week at a time
several
times during the summer does not sound that bad on the surface of things. However when it takes place during the
hottest months
of the year
in Florida
and means
no airconditioning
, food spoiling in refrigerators and freezers, stop lights and street lights out all over town, and grocery stores closed with spoiling foods due to a lack of electricity it is quite a different thing... and I live in an area that
only
had some tropical storm force winds. It is not just hot, either... it is very humid... like a steam bath. Buildings are boarded up and quickly get to over 100 degrees F. Last summer we never took our boards down until the end of the season. People that took them down after the first storm just had to put them all back up a week later.
I have lived in Florida since 1957 in the same area (Pinellas County), and I have never experienced a direct hit from a major hurricane. We have had close calls... we really thought we were going to get hit by Charley last summer before it took that unexpected and sudden right turn. Had we been directly hit by Charley from the SW, water would have been pushed into Tampa Bay and there probably would have been over 20 feet of water in downtown Tampa... a category 5 is predicted to bring over 26 feet of water.

So, I have a few pictures to share with you about hurricane seasons in Florida... and another reminder... The last time my area of Florida was hit by a major hurricane (category 3, 4, 0r 5) was 1921... and believe me the area has changed since then.
This is a hurricane tracking chart at the beginning of the season...
This is a hurrican tracking chart towards the end of the season.
Just a sitting duck.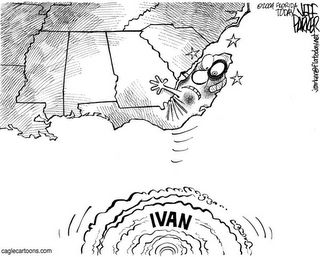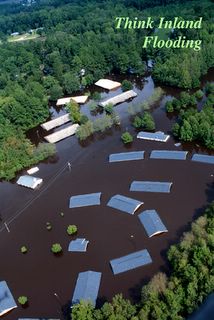 It's much more than strom surge and winds...
Flooding from rain and overflowing rivers, various reptiles moving
to higher ground, weeks of no electricity and mosquitos...
Hurricane Ivan wiped out many endangered beach mice like this one! Hurricanes harm all types of wildlife. Nesting areas for tropical birds, cattle and horses, all sorts of furry critters, pets of all sorts, tropical fish farms, citrus trees, vegetable farms, avacado trees, all sorts of natural vegetation, and many more things are affected by hurricanes and their winds and surges.